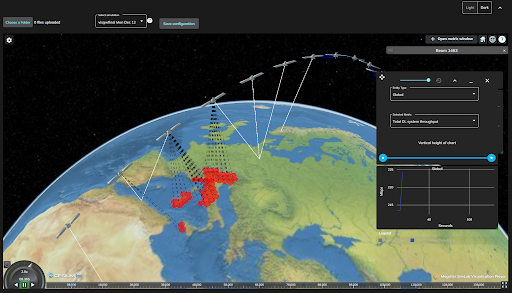 There are now hundreds and thousands of LEO satellites in orbit to cope with the increasing demands of satellite communications. To overcome the design issues that this development has brought with it, Magister Solutions is again working with the European Space Agency (ESA) to further develop the simulator they created as part of the C-DReAM (Constellation – Dynamic Resource Allocation Management) project for researching satellite constellation communication systems.  
5G Non-Terrestrial Networks (NTN) were standardized by 3GPP in Release-17. One of the most interesting and innovative use cases of it is that it provides the potential for fully integrating terrestrial with non-terrestrial 5G networks that target direct-to-handheld services, (i.e., mobile devices).
"Even though 5G NTNs are now standardized, there are numerous open design factors affecting system capacity and end user performance", explains Jani Puttonen, CEO of Magister Solutions. "For instance, there's the number of satellites, their orbits, antenna assumptions, satellite payload capabilities, resource allocation optimization, and assumptions about the terminals which must all be taken into account. This calls for flexible simulation tools."
DASCE is a follow-up to C-DReAM
Magister Solutions has thus started working on another project with ESA to address these issues. DASCE (Direct Access Satellite Constellation Emulator) is a continuation of the C-DReAM project, in which Magister collaborated with Thales Alenia Space France (TASF) to develop a capacity-level system simulator for Non-Geostationary Satellite Orbit (NGSO) constellations and resource allocation algorithm optimization.
In C-DReAM, Magister was in charge of simulator design and development, simulation execution, and analysis of the simulation results, while TASF defined the scenario, set the specific requirements, and investigated how resources could be shared.
DASCE's goal: to demonstrate 5G Non-Terrestrial Networks direct access at the ESTEC 5G/6G Hub
The objective of DASCE is to further develop the simulator towards one the most interesting and striking use cases of the future, 5G NTN direct access, where direct-to-handheld is included.
As Stefano Cioni, Telecommunication Systems Engineer at the European Space Agency, and technical officer on the DASCE project explains, "the ESA has supported and actively contributed to the standardization of 5G NTN from the very beginning. To this end there is a 5G Strategic Programme Line (SPL) supported by several ESA Member States".
The enhanced simulator developed in DASCE will not only be used to study different design factors affecting satellite network capacity, but also to demonstrate the expected performance of the 5G NTN direct-to-handheld service over an NGSO constellation.
"C-DReAM is primarily a capacity level system simulator for NGSO constellations", Puttonen adds, "but it's implemented in such a flexible and modular way, it can be configured for a range of SatCom use cases".
For Cioni, it's "an enhanced software tool that's meant to evaluate NGSO satellites' direct access to 5G. It then displays these results on a specially designed Graphical User Interface".
Using C-DReAM as the initial technical baseline, DASCE has three goals:
To develop the simulator further, we will continue to develop and introduce new features to improve the simulator's functionality, e.g., Ka-band and VSAT user terminals.
To enhance visualization, we will improve the ways in which the simulator results are graphically displayed, using detailed animations.
To demo the simulator at the ESTEC 5G/6G Hub
"The 5G/6G Hub at the European Space Research and Technology Centre (ESTEC)", explains Cioni, "will essentially consist of an Engineering Lab that is hosting equipment and a demo room to showcase state-of-the-art 5G projects realized with ESA partners".
"For Magister", Puttonen points out, "this is a great opportunity to be able to demonstrate both our simulation services and competence in 5G/SatCom technology".
DASCE project – demonstrations using Magister SimLab
Since the DASCE project is still in its early stages, there are still some details that have not been finalized. One of the decisions yet to be made is about the system that will be used for the demo and visualization. Magister SimLab is a strong candidate for demonstrating the enhanced simulator, but the final decision will be made in early 2023.
Do you want to learn more about Magister SimLab? Magister SimLab provides network simulations as a service – read more!
https://www.magister.fi/wp-content/uploads/2022/12/dasce-blogi.png
293
512
Magister
https://www.magister.fi/wp-content/uploads/2018/11/magister_logo_white.png
Magister
2022-12-16 10:32:15
2023-01-05 09:17:36
Magister Solutions continues its work with the ESA on a new project: DASCE