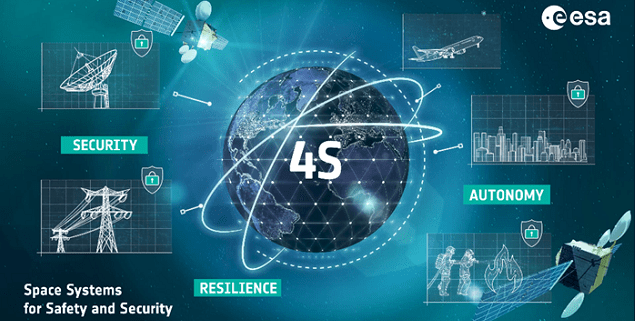 Magister is proud to announce its key role in the ESA-funded 4SSTB project to provide simulation services that will allow different vendors to develop their own products e.g. within the context of IRIS2 – a secure European satellite connectivity system that is independent of others.
As the European economy is increasingly dependent on secure and resilient connectivity, the European Commission (EC) has embarked on an initiative to set up a fully European satellite constellation (IRIS2) that will reduce industry's dependency on outside satellite networks and meet the ever-increasing demand for satcom services. Greater digital sovereignty will also ensure a more secure satcom constellation for all those who use it.
IRIS2 is an initiative to improve satellite communication through a hybrid high-speed internet broadband that copes better with connectivity dead zones. It's hybrid insofar as the same constellation that is used commercially by end users and industry is also secure enough for public and governmental bodies in Europe as well (e.g., aeronautical, and maritime surveillance, and safety-of-life mobile communications).
ESA has also reacted by creating a Strategic Programme Line named "Space Systems for Safety and Security (4S)" under ESA Telecommunication Programme. 4SSTB stands for "Space Systems for Safety and Security System Services Test Bed" – a set of R&D tools specifically designed for European satellite constellation research, e.g. for IRIS2. The simulation results produced are useful not only for developing standardisations for use across the constellation (such as 5G), but also the satellite constellations themselves and measuring the expected performance.
"When they talk about satellite constellations," remarks Jani Puttonen, the CEO of Magister Solutions, "they usually mean Low Earth Orbit (LEO) constellations, so for full global coverage you need a lot of satellites – it might be thousands". There are understandably many players involved with producing these satellites, and they all need R&D tools, which is where 4SSTB comes in.
The prime contractor in the 4SSTB consortium is GMV in Germany, with sub-contractors in Belgium (Telespazio) and Greece (National Technical University of Athens, also known as NTUA), and another two in Finland (VTT and Magister Solutions).
» Read GMV's article of this project
"While GMV, NTUA, and Telespazio are building the real-time hardware test bed solution," Puttonen explains, "VTT and Magister are jointly responsible for designing and developing a non-real time (NRT) simulator for LEO satellite systems. It means we implement a model of the whole satellite constellation in software which can then be configured in terms of how many satellites, how many terminals, and the kind of traffic it contains".
This NRT simulator then predicts what would hypothetically happen. In addition, the Magister SimLab simulation service is intended to be used as demonstration tool to control NRT simulator operation and demonstrate the expected performance.
https://www.magister.fi/wp-content/uploads/2023/09/4stb_esaphoto_web2.png
405
635
Magister
https://www.magister.fi/wp-content/uploads/2018/11/magister_logo_white.png
Magister
2023-09-18 08:59:39
2023-09-19 08:37:54
4SSTB: to create an R&D simulation tool for developing a secure independent European satellite connectivity system, funded by the European Space Agency (ESA)